Wyverstone weapons haul to be destroyed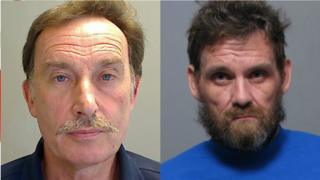 The UK's biggest stash of illegal weapons, found in a Suffolk village, is to be destroyed following the imprisonment of an arms dealer earlier this year.
Anthony Buckland 65, supplied some of the 463 firearms found at the home of James Arnold in Wyverstone in 2014.
He was jailed for six years at Norwich Crown Court in February. Arnold, 49, died from cancer before going to court.
Suffolk Police said it would begin "chopping up" the weapons next week.
Anti-tank missile
They uncovered rifles, machine guns and an anti-tank missile, along with 200,000 rounds of ammunition in a secret room at Arnold's home.
Officers were originally called in April 2014 to revoke his legally-held firearms licence after reports of a domestic incident.
Over the next six weeks officers searched his home, carrying out controlled explosions and discovering a secret room hidden behind a false wall in his kitchen.
Police said had the weapons fallen into the wrong hands, there would have been enough to arm nine coach-loads of terrorists.
Buckland, of Stoke Holy Cross, Norfolk, was found guilty of 11 counts of selling a prohibited weapon and nine counts of fraud.