Ipswich: Two arrested after gun fired in Stoke Street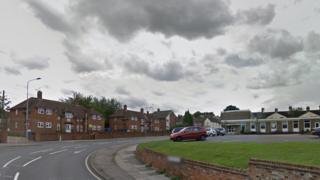 Two men have been arrested on suspicion of attempted murder after a door was kicked down and a gun fired in Ipswich.
The victim said he was woken by banging in Stoke Street at 01:15 BST on Thursday and saw two men kick in the front door and shoot a gun.
They immediately ran away. No-one was injured and the victim called police.
Suffolk Police said a 48-year-old man from Clacton in Essex and a 28-year-old man from Liverpool were arrested on Friday.