Security services seek hacking suspect Lauri Love password order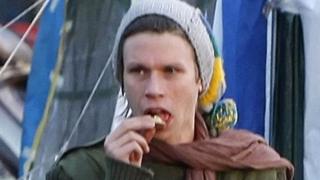 British security services have been criticised for trying to force an alleged cyber hacker to reveal the passwords to his encrypted computer files.
Lauri Love is fighting attempts to extradite him to America to face criminal charges for breaking into Federal Reserve computers.
The 31-year-old is accused of stealing "massive quantities" of sensitive data.
He faces up to 12 years in prison if found guilty.
The National Crime Agency (NCA) seized computers and hard drives from his home in Stradishall, Suffolk, in October 2013. Mr Love is suing the NCA for their return.
Officers have made an application, as part of the civil proceedings brought by Mr Love, to force him to hand over his passwords.
Screenshots taken before the encryption kicked in show that he had information from Nasa, the US military and the department of energy, according to the NCA.
'Power grab'
Mr Love's team said it would be a significant blow to privacy and a "power grab" if the application was granted.
Stephen Cragg QC, representing Mr Love, told Westminster Magistrates' Court the application "raises questions in respect to the right to respect for a private life and right to enjoyment of private property."
He said that the NCA should apply to a court under the Regulation of Investigatory Powers Act (Ripa) to force people to hand over their passwords to decrypt data.
Mr Cragg added: "There is a concern that the NCA is seeking in this application to access Mr Love's data by the back door rather than by the route sanctioned by parliament in Ripa."
The police did issue Mr Love with a Ripa order in February 2014, which he did not comply with. It expired with no further consequences.
Speaking outside the court, Mr Love said officers were holding his "property to ransom".
"It is not just the devices that cost money and I don't have a lot of money, but it is everything I have ever made - writings, software, photos, correspondence, memories of an inestimable personal sentimental value," he added.