Suffolk Coastal and Waveney councils consider merger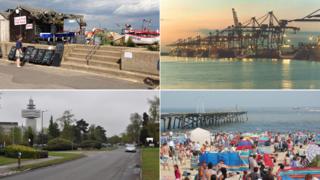 Two of Suffolk's councils have agreed to look at a full merger to create one large local authority.
Waveney and Suffolk Coastal district councils could join to create East Suffolk District Council.
The proposal would save £800,000 a year, a cabinet report said.
A joint meeting held by the Conservative-led authorities agreed to look at the business case for a merger. Some Labour councillors have said the move would weaken local democracy.
The existing district councils have shared a chief executive since 2008 and pooled office staff and some services, but this option would comprise a full political merger.
Colin Law, Conservative leader of Waveney, said: "We are in straitened times and have had to look at cuts of 15-20% and that makes it a worthwhile proposition."
For more on this and other stories, read the BBC Suffolk Live page
Waveney Labour leader Sonia Barker, said: "We could end up with the largest district council in England and local democracy will be affected because councillors in Felixstowe, Kesgrave and Martlesham will be making decisions for residents in Lowestoft, Beccles and Bungay, which we do not think is a good idea."
Options being considered
Full merger of Suffolk Coastal District Council and Waveney District Council (recommended for approval)
Combining both councils services and staff, but maintaining the current political set-up of councillors and separate cabinets and separate leaders
Merging both district councils into a single unitary authority which would also take over Suffolk County Council's services such as education, waste disposal and social services
Stephen Baker, joint chief executive of both existing councils, said: "Having the two authorities represented by a single leader would have the potential for a much stronger voice.
"If we need to break some of the big strategic decisions down so they're more representative of the local areas, that's exactly what we will need to explore through the business case."
If both councils approve the merger plan, a public referendum would follow.
If approved by the government, East Suffolk District Council could be created in May 2019.