Derek Slade death: 'Relief' at death of paedophile headmaster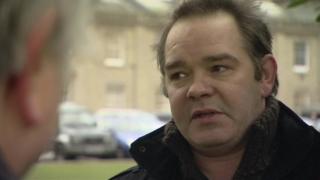 The death of a paedophile headmaster nearly six years into a 21-year sentence has been described as a relief by one of his victims.
Mike Parker, 44, was abused by Derek Slade at St George's School at Great Finborough when he was aged about 10.
Slade committed the attacks between 1978 and 1983.
Mr Parker said: The only good thing with him dying is that we don't have to worry about getting the call saying he (Slade) is going to be released early."
Slade was nearly six years into his sentence at Norwich Prison when he died on Wednesday.
He was jailed in 2010 for a string of offences against boys aged between eight and 13.
Read this and more stories from Suffolk
Mr Parker, who waived his right to anonymity, was around the age of 10 and among a group of pupils abused by Slade at St George's School at Great Finborough.
His allegations and those of other pupils prompted the case brought by the Suffolk force.
He spoke of "being broken" by beatings from Slade ahead of the abuse which was to come later.
The father-of-three heard the news from police Slade had died on Wednesday and was at first "blank".
'Concerns'
He said: "For us now that he's gone it's a real shame he didn't serve a longer sentence and suffer more.
"It's a shame for us but also for the other kids in the world he abused."
Now married and living in Newcastle-upon-Tyne, Mr Parker said that before the abuse, he was a well-behaved "grade A" student who read books beyond his years.
Following the abuse he said he began to struggle in education.
"When I look back now, nobody ever asked any questions about my behaviour, they just believed the report that Derek Slade had made in which he called me a fantasist and a liar," he said.
But after the news of Slade's death, he said: "I got up yesterday and the sun was shining, but it shone a bit brighter, and I thought: 'Today is going to be a good day, I don't have to think about it, and I don't have to worry about it anymore."