Tourist attraction hope for Southwold's disused railway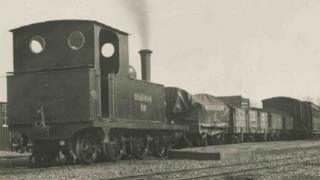 Campaigners have submitted plans to turn a disused Victorian railway into a tourist attraction.
The rural line once linked Southwold with Halesworth but closed more than 80 years ago.
Southwold Railway Trust said it wants to "recreate the character of the line" by building an engine shed, visitors' centre and track at the Blyth Road site.
Waveney District Council will consider the application at a later date.
James Hewett, chairman of the trust, said: "We will be providing a small tourist attraction with a nature reserve with a miniature railway going around it.
"You'll also be able to see our people working on our rolling stock - the heritage train we are building."
He said the trust wanted to reopen the line, which ran from 1879 to 1929, but this was a separate application.
The idea has attracted arguments both for and against the plans.
Rupert Wise, of Reydon, said the idea was a "recipe for a half-finished project dragging on for decades".
---
Southwold railway line
The 3ft narrow gauge line linked Southwold and the sea with Halesworth on the main Great Eastern line
The line is remembered for its long-chimneyed steam engines and long six-wheeled coaches
After World War One the financial depression caused a general decline in the fortunes of the line which led to its closure
Most of the line was dismantled during World War Two
The Southwold Railway Society was formed in 1994
---