Pakenham mum and daughter get home makeover from volunteers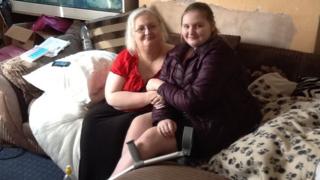 A mum and daughter whose home has become cluttered due to their mobility problems have been helped by volunteers after a fundraising campaign.
Jo Cordock and 12-year-old daughter Lydia are unable to do any housework in Pakenham, Suffolk because of chronic pain.
A cleaner hired by Ms Cordock realised she could not tackle the job alone and set up a Facebook campaign.
About 70 people have offered to help, with more than £400 raised.
Chronic fibromyalgia and Ehlers-Danlos syndrome (EDS) sufferer Ms Cordock said: "Because of my condition, there's not an awful lot I can do.
"Pain-wise I have to rely on an awful lot of other people to do things around and look after the property, and that didn't really happen.
"Some days I can't even hold up a newspaper."
Until work began, neither could get into their bedrooms and had to sleep on a corner sofa.
Daughter Lydia, who has also been diagnosed with EDS, is her mother's registered carer and is often in too much pain to attend school.
She said: "We can't really thank people enough for what they're doing because we're actually going to have a home, seeing as we've been living in, as described, 'a hell-hole'."
Cleaner Amy Bull highlighted the case on a Suffolk business Facebook page and was "overwhelmed" with offers of help.
"I am just grateful I went in there, because I don't know how long they could have lived like that," she said.
"It really wasn't fit for anyone to live in, let alone a poorly mum and her daughter.
"The home needs gutting, which we have more or less done, and mould is taking over the house."
Havebury Housing, which is responsible for the house, said it had treated mould in the house twice recently and was due to fit an air vent.