Wyverstone weapons haul: Firearms dealer Anthony Buckland jailed
An arms dealer who supplied some of the firearms that made up the UK's biggest stash of illegal weapons has been jailed for six years.
Anthony Buckland 65, shook uncontrollably as he was sentenced at Norwich Crown Court.
Police had found more than 400 firearms at the home of another man, James Arnold, in Wyverstone, Suffolk, in April 2014.
Arnold, 49, had faced charges, but he died from cancer before going to court.
Buckland, of Stoke Holy Cross, Norfolk, was found guilty of 11 counts of selling a prohibited weapon and nine counts of fraud.
Live: More on the UK's largest weapons haul
Police uncovered rifles, machine guns and an anti-tank missile, along with 200,000 rounds of ammunition in a secret room at Arnold's home.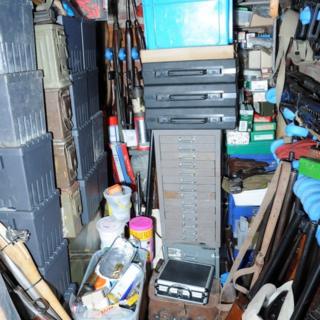 They had originally called at Arnold's home in April 2014 to revoke his legally-held firearms licence after reports of a domestic incident.
Over the next six weeks officers searched his home, carrying out controlled explosions and discovering a secret room hidden behind a false wall in his kitchen.
Suffolk Police said had the weapons fallen into the wrong hands, there would have been enough to arm nine coach-loads of terrorists.
Chief Superintendent David Skevington said Arnold never offered any explanation, but said he had come by the weapons years ago, and wanted to keep them safe.
He said: "We have asked every question and followed every line of inquiry and have found no evidence of a criminal or terrorist motive.
"The best explanation to date is that he was a collector and a hoarder who collected these weapons in the way some people collect stamps."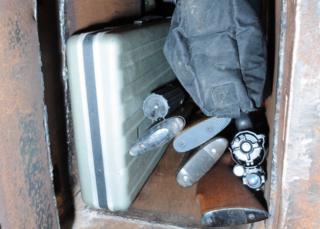 Officers were called to Arnold's terraced home, down a single-track lane to reports of a domestic violence incident.
They planned to revoke his licence for 17 firearms to prevent them being used in a domestic attack.
When they arrived they found other illegal weapons strewn on the living room floor.
Looking further, they found the internal layout of the house did not match its external footprint, and discovered a hidden room behind a false wall in his pantry.
It revealed a cache larger than any other found in this country.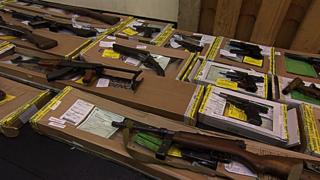 Arnold died of pancreatic cancer three months after the discovery.
Buckland was prosecuted for supplying one of the weapons, but police said 16 firearms supplied by him were found at Arnold's house.
Michael Claire, mitigating for Buckland, described him as an "utterly broken" man.
He said: "He will never deal in firearms again; he will never handle firearms again, and he doesn't want to."
At an earlier court hearing, the discovery was described by prosecutors as the "biggest stash of weapons this country had ever experienced".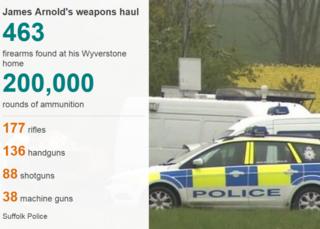 ---
Analysis: By Kevin Burch, BBC Look East
It was a very surreal moment.
We'd already been told in a police briefing just minutes before about the scale of the weapon cache, amassed by James Arnold - 463 firearms in total, explosives and 200,000 live rounds of ammunition.
But it was only when we were led into the armoury at police headquarters at Martlesham, with everything laid out in front of us, that the scale of this hit home.
Meticulously logged and labelled, there was every kind of weapon you could think of, from a Luger made in 1912 to an anti-tank gun. Machine guns, handguns, several boxes full of bullets. In fact, so many items that the whole room was filled from end to end, with many exhibits laid out on shelving several layers high. Every item fascinating and potentially deadly.
Even with their vast expertise, those who guided us around expressed their amazement at what they'd found in a remote Suffolk village.
In the words of Martin Parker, lead forensic scientist at the UK's National Ballistics Intelligence Service: "Unprecedented. Certainly a lot of the weapons that we're seeing here, things like assault rifles and sub-machine guns, are not the sort of typical weapons that we're seeing turning up in the UK."
---