Hollesley Bay open prison inmate recaptured in Hertfordshire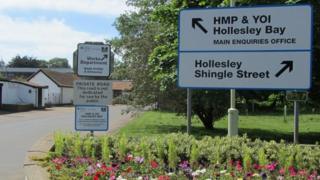 An inmate who absconded from an open prison in Suffolk just weeks into a 19-month sentence for burglary and dangerous driving has been recaptured.
Anthony Lee, 19, who fled Hollesley Bay prison on Wednesday 27 January, was arrested in Hertfordshire on Saturday.
He has been taken into custody and will be returned to prison, police said.
Suffolk Police and Crime Commissioner Tim Passmore has complained about a lack of security to the Ministry of Justice and was told it had improved.
Earlier in February eight inmates from the prison were on the run.
A Ministry of Justice spokesman said absconds had fallen to a record low in the UK, but they "take each one extremely seriously".