Ipswich Cornhill: £3m revamp could start in 2017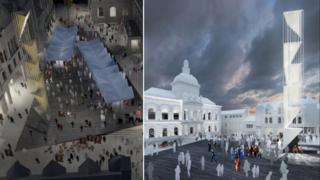 A £3m revamp of Ipswich town centre could start next year now that civic leaders have "crossed no man's land" to work together, the town's MP has said.
A redesign of the Cornhill, including the construction of a new tower, was revealed in January 2014 but progress "stalled" due to a row over funding.
MP Ben Gummer, along with the county and borough councils, all say they are positive the scheme is back on track.
"It will be a reality," said Mr Gummer. "We've all signed up for the vision."
Political squabbling between the Conservative-run Suffolk County Council and Labour-led Ipswich Borough Council prompted the editor of the East Anglian Daily Times, Terry Hunt, to write an open letter last year.
In it, Mr Hunt claimed the rows over projects including the Cornhill redevelopment and new 'Welcome to Ipswich' signs was stopping the town from "fulfilling its potential".
Conservative MP Mr Gummer said the Vision for Ipswich Board, which is made up of representatives from the councils, Ipswich Central, University Campus Suffolk, the local enterprise and chamber of commerce, were hoping to make an announcement about the Cornhill "soon".
"After the election we put all our issues to the side and crossed no man's land, and the result has been remarkable," Mr Gummer said.
"For the first time in living memory you've got the councils, the MP, and businesses working together and thrashing out solutions."
So far the borough council and county council have committed £800,000 each towards the project.
Suffolk County Council said work on the Cornhill was scheduled to begin next year, and would be delivered by Ipswich Borough Council.
A spokesman for the borough council said: "We are making progress and hope to have some positive news within the next month."