Ipswich robbery 'ends in gunfire' after car chase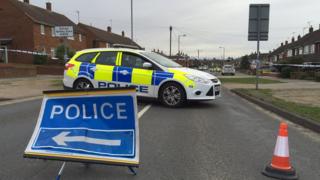 A self-employed roofer has told how he gave chase after an armed robbery at his home but backed off after the assailants fired a gun.
Stuart McConnachie, 27, said he drove after two men who forced entry to his home in Ipswich on Monday night and took £2,000 in cash.
"I tried to force them off the road but as soon as they pulled the gun on me I thought 'game over'," he said.
Police said no evidence of gunfire had been found.
Read more on this story and others from Suffolk
Mr McConnachie, who lives on Manchester Road, said he was holding his one-year-old daughter when he answered his front door to a man at about 20:30 GMT.
"I opened the door ajar and he immediately pushed his way in, pushed me and the baby to the floor and started asking for money," Mr McConnachie said.
He said another man was stood behind, pointing a handgun at them.
"I was trying to keep them happy and give them what they wanted, so hopefully they would go," he said.
Mr McConnachie said he pursed the getaway car used by the men and crashed his car into a black BMW on the junction of nearby Hawthorn Drive.
He said he returned home after "two or three" shots were fired.
Mr McConnachie's partner, Kimberly Kuhlmann, 22, said she asked one of the men if she could take her daughter away from the scene.
"He put his hand over my mouth and said if any of us did anything he would set off a shot," she said.
Det Insp Matthew Connick said police were looking for two black men and one of mixed race, in their 20s or 30s.
"We are treating this as a serious isolated incident, which we believe to be targeted," he said.
"Reports of hearing gunshots fired are understandably alarming, but we have not as yet found any proof that live ammunition was involved."