Rougham jobs at risk at HRP refrigeration warehouse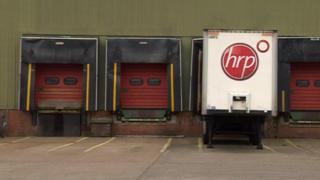 Up to 42 jobs are at risk at a refrigeration equipment warehouse as part of plans to move its head office.
HRP's distribution centre for cooling and air-conditioning equipment at Rougham in Suffolk is undergoing a three-month consultation with staff.
Its Swedish parent company Beijer wants to move the Rougham office to Leeds, although its operations in Bedford and Norwich would not be affected.
Ten staff in Suffolk could be offered the chance to move.
The firm said it could become more efficient by moving functions such as IT, purchasing and accounts from Suffolk to Leeds.
More on this and other stories at the BBC Suffolk Live page
John Billson, managing director of Beijer (UK), said: "HRP is in poor shape and losing money and we've got to get it back on its feet again and make it profitable.
"We can save cost if we move them to Leeds.
"The large supermarkets have been pulling back on spend with regards to refrigeration and air-conditioning and we've seen the dynamics change to convenience stores which means a lot less of our products installed in these sites.
"We believe the Rougham plant will close, but this is safeguarding jobs in Bedford and Norwich."