Dominican Republic premature baby Evie home in Ipswich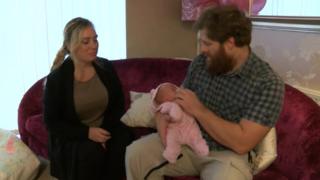 Funds donated to help a prematurely-born baby now back in the UK after a three-month Caribbean stay will partly be spent at her local NHS hospital.
Sharon Halls' and Daniel Compton's daughter Evie was born 12 weeks early in the Dominican Republic in September.
They feared private medical bills were not covered by insurers and £71,181 was raised from well-wishers.
The insurance did cover the bills and some of the donated money will now go to Ipswich Hospital instead.
The couple, from Ipswich, had been on holiday for a wedding when Ms Halls, 36, contracted an infection, went into labour and gave birth in a private hospital on 28 September.
Evie weighed 2lb 10oz (1.1kg) and the couple said they started the fundraising plea when it was unclear if they would get the insurance money needed to pay the private hospital immediately.
She was transferred to the state-run Dr Robert Reid Cabral Children's Hospital in the Dominican Republic, which is free to patients.
'Lots of cuddles'
Once the insurance money did come through, the couple said the donated money would be given to the children's hospital in the form of equipment.
They have now decided half should go to Ipswich Hospital, where Evie's healthcare continues.
On their return, Ms Halls said doctors were "happy" with Evie's progress and she now weighed 6lb 7oz (2.9kg).
"I didn't think the day would come to be honest - I've cried lots," she said.
For more on this and other stories, visit the BBC Suffolk Live page
Further checks were needed but everything was "sound", she said.
"She'll get lots of cuddles from lots of friends and family who want to meet her and we've got Christmas dinner to have," she added.