Blundeston Prison sold to housing developer Badger Building for £3m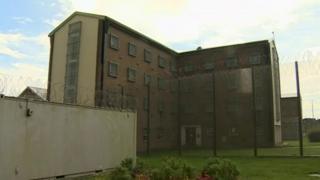 A former prison that closed in 2013 has been bought by a housing developer for £3m.
HMP Blundeston, in Suffolk, has been sold by the Ministry of Justice as part of a reorganisation of UK prisons.
The 24 acre (10ha) site has been bought by Badger Building, which says development will not be "detrimental".
Stephen George, managing director, said: "Clearly there will be a housing element, but we're mindful the council wants a mixed-use scheme."
The former category C jail was built in 1963 and had capacity for 500 inmates.
Infrastructure 'limits'
Mr George, who lives in Blundeston village, said: "I'll be making sure the scheme is not detrimental to the village.
"We're inviting people to submit their ideas for the site, which could mean offices, leisure use or something else."
Waveney District Council is the local planning authority and it produced a planning guidance document ahead of the sale, which had the approval of Blundeston & Flixton Parish Council.
Graham Wade, chairman of the parish council, said: "We're glad the prison has gone to a local developer who understands the limits of the existing local infrastructure, and we believe he will not over-develop the site.
"We accept there will be some form of housing, but we hope some of it will be affordable for youngsters and a nursing home could also be provided.
"The site has still got all the prison's sport facilities and workshops, which could be developed for community or business use."
Mr George said he expected the cell blocks would be demolished unless someone came up with a scheme to use them. He hopes to have a firm plan ready by the summer.