Foxhall crash victim Bryony Charles: Recovery taking longer than hoped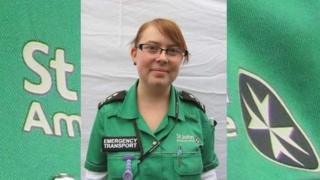 A volunteer first aider who suffered multiple injuries when she was hit by a stock car says a full recovery will take longer than she first thought.
Bryony Charles, 23, was struck by the car while on duty at Foxhall Stadium, near Ipswich, in June.
She has returned to her job with St John Ambulance, in a reduced role.
"Although I probably will fully recover, it's probably going to be a bit further off than I originally thought," she said.
Mrs Charles, who is from Ipswich, was in hospital for a fortnight after being hit by an out-of-control stock car.
Her injuries included a broken ankle, dislocated knee, torn ligaments, kidney and liver damage, and a back injury.
As she is unable to kneel, Mrs Charles cannot perform CPR, which is essential to her first aid work.
Instead she is back at work, doing radio communication, support work, paper work and event planning - with the help of a walking stick.
"I'm keeping a few options open, ideally it would be to get back on the ambulances," she said when asked about her plans.
"I was looking before at student paramedic roles and working up through the ambulance service.
"The ambulance work is what I want to do but that might not be the option."
Forklift driver Bob Ellis was also injured in the crash, and required 24 stitches in his legs.
The other St John Ambulance worker involved was treated at the scene for minor injuries.