Sudbury cash machine: Woman fends off muggers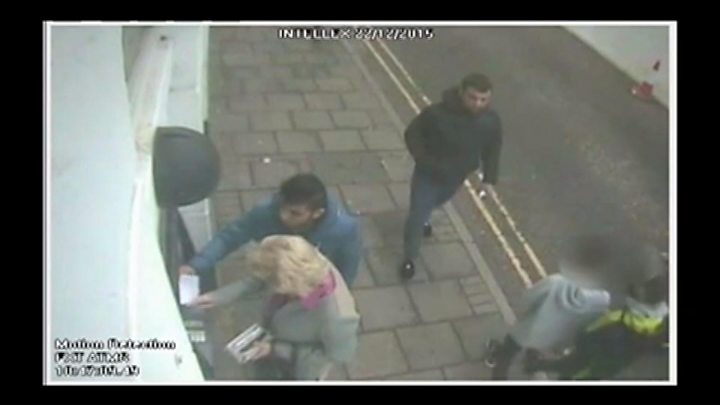 CCTV cameras captured the moment a woman "whacked" a would-be thief who attempted to rob her at a cash machine.
Two men tried to distract Camilla Rodwell, 51, and steal money and her card.
The pair walked off after the failed robbery outside Barclays Bank in Sudbury, Suffolk, on 22 December.
Ms Rodwell said: "I whacked him across the chest, not very hard, and he looked surprised and thought he might have met his match."
The victim, who runs an art gallery in nearby Long Melford, said she had entered her PIN code when one of the men approached her and started waving a piece of paper in her face.
'Scumbags'
"I was a bit bamboozled by this and he leant across and must have selected the £200 option," she said.
"I was determined these scumbags weren't going to pinch my money.
"I probably should have whacked him harder, but I didn't."
She said she managed to keep hold of her money and card and the pair "sauntered off".
A woman with a pram stopped to ask if she was alright and then pursued the pair and took photos of them.
Suffolk Police said the pair walked off in the direction of Station Road.