Teacher extradited over Great Finborough school sex charges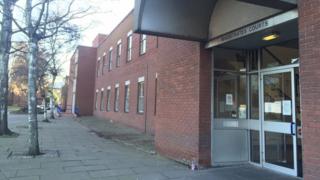 A former teacher has been extradited from France and charged with alleged sex offences at a private school.
Gerard Singer, 68, was collected by Suffolk Police officers on Tuesday and charged with 34 offences.
They relate to nine pupils, aged nine and 10, at St George's School, Great Finborough in the early 1980s.
Mr Singer, who lives in Elnes, Nord-Pas-de-Calais, appeared before magistrates in Ipswich earlier and was remanded in custody.
His case was transferred to Ipswich Crown Court, where he is due to appear on 5 January.
Mr Singer is charged with 16 indecent assaults, 12 counts of gross indecency with a boy under 14, three counts of buggery and three counts of assault with intent to commit buggery.
St George's School was based at Wicklewood, Norfolk, before it moved to Great Finborough.
The current Finborough School on the same site is unconnected to St George's School.