Lowestoft killer Karen Kimber 'feared father was the devil'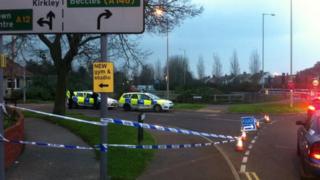 A woman strangled her father believing he was "the devil" and that he wanted to kill her, a court heard.
Karen Kimber sought help for her mental illness before killing Dennis Nicholls at the Suffolk home they shared last November, the Old Bailey was told.
Mr Nicholls called police, urging them to hurry to Kirkley Run in Lowestoft, as Kimber was trying to "hurt him".
The 53-year-old defendant admitted the manslaughter by diminished responsibility of Mr Nicholls, 89.
Andrew Jackson, prosecuting, said Kimber had had a long history of mental illness, living with schizophrenia since she was 20 years old.
Refused group therapy
Her condition was controlled by medication, and she had managed to hold down a job, buy a house and form a relationship.
But later in 2013, after having divorced, she moved in with her father, despite her "entrenched belief her parents were trying to kill her" and the fact her mother had died in 2009, Mr Jackson said.
In the run up to Mr Nicholls's death, she contacted a mental health team six times, but the court was told she had refused to attend group therapy as she was frightened to leave her father alone.
On the night of the killing, 19 November 2014, Mr Nicholls alerted police just before 21:00 GMT.
'Release the beast'
Mr Jackson said: "He said his daughter was trying to hurt him. He said she was in her bedroom and the front door was open. He asked for police to hurry."
Shortly afterwards, Kimber told neighbours she had just killed her father, who police found in the sitting room.
Kimber told police she thought her father was "the devil" and she had wanted to "release the beast" from him, the court heard.
The Crown accepted her plea by video link and Mrs Justice McGowan sentenced her to a hospital order.
Despite the fears about her parents, they had been "nothing other than loving and supporting of her".