Piper's Vale headteacher spends £3,500 a year on toast to help pupils concentrate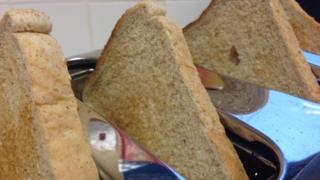 A primary school headteacher spends £3,500 a year buying bread to make toast for pupils to stave off morning hunger.
Paul Arch uses "pupil premium" government cash - given for disadvantaged children to raise attainment - to pay for the toast.
Ipswich's Piper's Vale Community Primary School head said at least 75% of the children will accept the food.
He said: "Children can't concentrate if they've got an empty belly."
The Raeburn Road school, rated by Ofsted as "requiring improvement" a year ago, has 186 of around 380 pupils who receive the pupil premium, which stands at £1,320 per year per pupil.
Mr Arch told the BBC: "I would say in each class, on average, at least 75% of the children will have the toast in the morning.
"Some would have had breakfast before coming to school, some wouldn't have had.
"But it allows for those children who haven't had breakfast to make sure they have some food."
'Changed' behaviour
After eating the toast, he said pupils' behaviour and concentration completely changed.
He added: "We spend on average around £3,500 a year.
"We use it as part of the pupil premium because a large proportion of our pupils come under that heading. If a child is healthy and fed, and in the right mood to learn, then it benefits their overall academics."
His comments came after an all-party parliamentary group on hunger warned of children going for days without a substantial meal.