Lavenham pub's WW2 servicemen signatures attract descendants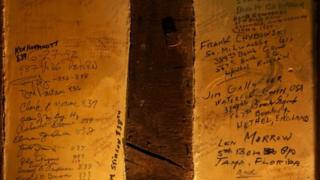 Relatives of World War Two US and UK service personnel who signed a pub's walls have been getting in touch after a project was launched to record and research the fading inscriptions.
The Swan at Lavenham in Suffolk was popular with servicemen posted nearby.
Nearly 1,000 of them signed the wall in what is now called the airman's bar.
Peter St John Howe discovered his father's signature on the wall after he visited the pub following publicity about the project.
Maurice St John Howe served with the Royal Army Service Corp during the war.
Jane Larcombe, from the Swan, said that while Peter knew his father had stayed at the pub, he had not known about the signature.
Another visitor said his aunt worked at the Swan during the war.
Ms Larcombe said: "Her daughter married US airman Chick Huntowski from the 487th Bomb Group.
"Mrs Huntowski will be 90 in January and lives in Las Vegas. As she doesn't use the internet, I've written her a letter explaining what we're doing."
The project is a joint enterprise between the Heritage Lottery-funded Eighth in the East, set up to collect the stories of Americans who served in East Anglia between 1942 and 1945, and the people who lived nearby, and the Stour Valley Community Archaeology Group.
The wall panels have been photographed and volunteers from the archaeology group are creating a database of names.
They eventually hope to trace the story behind every signature.
However, not all the inscriptions date back to World War Two.
Ms Larcombe said: "Some US airmen came back for the 50th anniversary of VE Day and signed the wall then.
"And a gentleman of about 93 signed the wall when he came back for the 70th anniversary in May."