Wyverstone gun haul: Trial of Anthony Buckland hears of weapons stash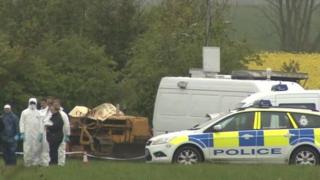 The trial of an arms dealer has heard a parish council chairman hid hundreds of illegal weapons in a secret room at his house.
Police spent four weeks searching James Arnold's property at Wyverstone in Suffolk last year.
Anthony Buckland, 65, of Stoke Holy Cross in Norfolk denies 20 charges related to weapons trading.
Prosecutors said some of the weapons he sold were found at Wyverstone, but Mr Arnold died before he faced charges.
Mr Arnold, who was chairman of Wyverstone Parish Council, was arrested in April last year after Suffolk Police found more than 400 weapons in what they called "one of the largest ever seizures of unlicensed firearms in mainland UK".
He died from cancer three months later.
'Fictitious character'
Mr Buckland was charged with selling prohibited weapons to several different clients and fraud by false representation.
The prosecution has opened its case against Mr Buckland at Norwich Crown Court.
Andrew Oliver, prosecuting counsel, said: "Some of those weapons are considered simply too dangerous for members of the public in this country to be in possession of."
Records showed the defendant supplied 26 weapons to a JJ Hambrose, who the prosecution claimed was a fictitious character.
Sixteen of them were found at Mr Arnold's home in a concealed room which was accessed via the kitchen.
The room contained many more weapons including machine guns, rifles, shotguns and ammunition.
Mr Oliver said: "Whether these weapons were to be used for illegal purposes or not we simply do not know but there must be a reason why he has created this fictitious person."
The prosecution said Mr Arnold told police he had not sold weapons to Mr Buckland, but he met JJ Hambrose at an auction in the 1980s and they carried out regular business.
He told officers he would never sell a weapon to somebody who was not entitled to own it.
The trial is expected to last up to three weeks.