Haverhill Canon Ian Finn fraud trial: Jury retires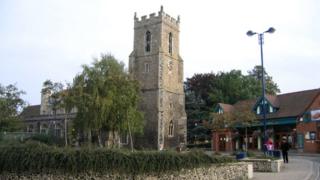 A priest accused of defrauding parishioners out of wedding and funeral fees was not dishonest but made a "pig's ear" of church finances, a court has heard.
Canon Ian Finn's trial previously heard he took £13,000 from church service fees later found in his bank account - a charge he denies.
His defence argued he had not had proper training to handle accounts.
An Ipswich Crown Court jury retired to consider its verdict on Monday.
During trial, prosecutors claimed Mr Finn, 57, of St Mary the Virgin in Haverhill, Suffolk, kept the money dishonestly.
The court heard Mr Finn, of Hopton Rise, had a system whereby fees for funerals and readings of wedding banns were paid directly to him between 2007 and 2014, rather than to the church council.
When eventually questioned by other church members, he paid the money over to the council.
Charles Myatt, prosecuting, said the claim that it was because he was inexperienced, rather than dishonest, was "wholly unbelievable".
Stephen Dyble, defending, said his client was not on trial for being a bad accountant, but on trial having been falsely accused of dishonesty.
Summing up, he said jurors must ask themselves: "Is he a dishonest man? Is he a common thief?".
He argued Mr Finn, who was ordained in 1981, had had no basic training in church finances and, when the problems came to light, he had "held up his hands and paid the money back".
Mr Finn denies a charge of fraud by abuse of position.
The jury is due to return to continue deliberations on Tuesday.