Greene King brewery gas leak: Twenty people rescued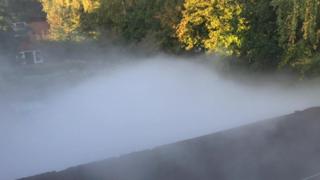 Twenty people were rescued from a Suffolk brewery and a hundred homes evacuated after a carbon dioxide leak.
People trapped in Greene King's bottling facility in Cullum Road, Bury St Edmunds, were helped out of the building by fire crews.
Homes in nearby Tannery Drive, Rockingham Road and Southgate Street were evacuated for about two hours because of a drifting gas cloud.
Fire officers contained the escape and Greene King has launched an inquiry.
The brewer said there was a leak in a "bulk CO2 tank".
Group commander Pat Dacey of Suffolk Fire Service said a "major incident" could have been declared had it not been stopped.
A huge cloud of the gas in the atmosphere could have caused people respiratory problems, he said.
He said workers on a mezzanine floor of a compound building spotted the low-lying cloud of gas.
The cold weather had turned it into a "bright white cloud" which could not be walked through, he said.
No injuries
The East of England Ambulance Service said the people trapped were assessed at the scene and no-one appeared to be hurt.
Greene King said the gas is used to carbonate drinks, bottled beers and soft drinks.
A spokesman said: "Our engineers are now carrying out repair work on the affected pipe and we are investigating how this leak could have happened.
"The area is once again completely safe and local residents who were briefly evacuated have now returned to their homes.
"We would like to thank the police and fire services for their assistance and we sincerely apologise for any inconvenience this has caused."