Wyverstone gun haul: Police found 400 weapons at James Arnold's home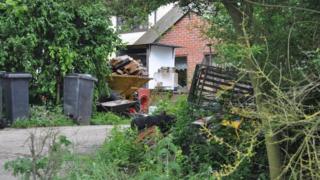 More than 400 weapons were found at the home of a parish council chairman, police have revealed.
The weapons and ammunition, described as "one of the largest ever seizures of unlicensed firearms in mainland UK", were found at James Arnold's home in Wyverstone, Suffolk, last year.
Mr Arnold, 49, was due to go on trial for possessing weapons including an Uzi sub machine gun, but died in July 2014.
Until now, police had not disclosed how many weapons were found.
Suffolk Police revealed the figure while announcing that Sgt Jonathan Turner is being commended for his role in the find.
A spokesman said: "Sgt Turner's initial enquiries into incidents occurring at a farm in Wyverstone ultimately led to the discovery of over 400 unlicensed firearms."
Police spent six weeks searching Mr Arnold's property and discovered guns including an AK-47 assault rifle.
Full details of the find are expected to be announced following the trial of Anthony Buckland, who denies illegally supplying a revolver to Mr Arnold.