Dominican Republic baby appeal 'to be re-donated'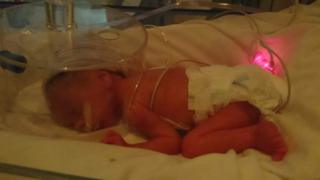 Thousands of pounds raised online following a baby's premature birth in the Caribbean will be "re-donated", the mother has said.
Sharon Halls and her partner Daniel Compton, of Ipswich, were in the Dominican Republic for a wedding when Evie was born 12 weeks early.
They feared medical costs would run to £184,000 but on Monday their insurer said it would cover all costs.
More than £73,000 has been raised since Friday, with the appeal still open.
Ms Halls contracted an infection while in the Dominican Republic and was due to have a caesarean but eventually gave birth to Evie, weighing 2lbs 10oz (1.1kg), on 28 September.
She said the family had to pay $10,000 (£6,590) as a deposit and ongoing costs of $2,500 (£1,647) a day, and were "broke", with no response from their insurer.
With Evie too weak to travel back to the UK, they set up the fund to cover their costs of her months of care in the Dominican Republic.
'Not primary concern'
The family's story and fundraising page featured in the national press and was shared on social media, with some 6,800 individual donations made.
On Monday, Infinity Insurance Services said all costs and Evie's repatriation, when she is well enough, would be covered.
In an update on the fundraising page on Tuesday, Ms Halls said: "Please understand that what happens to the fund should the insurance pay is not our primary concern, as we know this question has been asked.
"Please be assured we do not make the plea to make any financial gain, it was our desperate attempt to help our daughter.
"It will be re-donated and I would like some to go towards the Dr Robert Reid Cabral Children's Hospital, who are currently caring for little Evie."
Hundreds of pounds has been pledged on the fundraising page since the insurer's statement.
Most comments on the page are from well-wishers, but a small number are questioning the appeal's validity.
"I think you need to put something up here to ask people to stop donating", suggested one, while a woman said: "The [insurance company] state they never said they would not pay. I want my money back."