Bungee jump couple take wedding plunge in Killiecrankie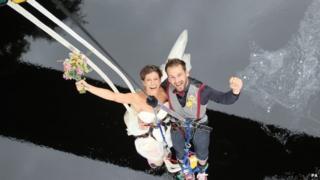 A couple took the plunge into married life by tying the knot on a bungee jump platform before leaping into the abyss.
Ross Basham, 33, from north London, and Hannah Phillips, 27, from Kelsale, Suffolk, were married by a humanist celebrant at Killiecrankie, Perthshire.
The couple held a family celebration in Suffolk before heading north to be officially wed by the celebrant who followed them on the 40m (130ft) jump.
Mr Basham said his wife's bungee jump wedding idea was "wicked".
Their vows were legally witnessed by members of staff from bungee company Highland Fling, who turned up in traditional Highland dress.
The couple held a celebration for 150 guests last weekend in Kelsale but did not tell people they were heading across the border to be married on Wednesday.
Primary school teacher Mrs Basham said: "I wanted a wedding that was legal but also fun, and I didn't want just to do the registry office type of thing."
Mr Basham, a model, and his new wife have bungee jumped before so he said he was not surprised when she suggested the idea.
Bungee company director Murray Trail said: "We've had someone jump in a wedding dress the day after their wedding but we've never had an actual full wedding on the platform."