7/7 theft widow Louise Gray has jail term cut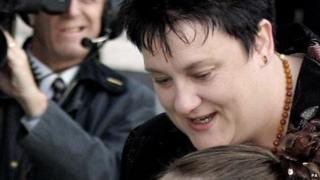 The widow of a 7/7 bombing victim, who was jailed after stealing £43,000 from her son, has won a 14-month cut in her prison sentence.
Louise Gray, 43, from Ipswich, spent £250,000 of her own payout before she "betrayed" her son Adam by taking money from his compensation fund.
Adam was 11 when father Richard, 41, was killed in the 2005 London bombings.
Three Court of Appeal judges agreed Gray's original sentence of two years and eight months was "excessive".
Lady Justice Macur, Mr Justice Walker and Judge Martyn Zeidman reduced her jail term to 18 months.
Gray, who watched proceedings via videolink from prison, listened as Judge Zeidman described her behaviour as "mean and disgraceful".
Judge Zeidman said that Adam was "understandably aggrieved" by the behaviour of Gray, of Sheldrake Road, Ipswich.
"There is absolutely no doubt that this was a serious breach of trust to a very high degree," he said.
"We find it easy to understand the huge and justifiable upset that must have been caused to the son of the victim."
The court bore in mind Gray's previous good character, and her "real remorse" for what she had done.
"Not surprisingly, she fell into a clinical depression and was unable to work or complete the task of bringing up her two children alone," Mr Zeidman said.
But, he added: "We should not for one moment forget or cast aside the very real hurt suffered by her son, who is also a victim of that bombing."