Suffolk chief constable Douglas Paxton's absence reviewed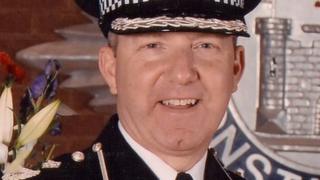 Suffolk's police chief has been off sick for six months, triggering a review of his situation.
Chief Constable Douglas Paxton went on sick leave on 16 December. His illness is not thought to be life-threatening.
He can have up to six months' of his £133,845 salary in full, but a review of future arrangements will begin.
Police Crime Commissioner Tim Passmore said today that he "wished him well in his recovery" but that he did not know when he would return.
The force said that it did not want to comment on the matter.
Mr Passmore said: "Our chief constable, Douglas Paxton, remains on sick leave and at this point we do not know how long this will continue.
"To cover Douglas' absence our deputy chief constable, Gareth Wilson, has been made temporary chief constable and we have also secured a temporary deputy chief constable to cover Gareth's substantive post.
"This provides the resilience we need to continue to provide an efficient and effective police service for the people of Suffolk.
"The absence of any police officer is managed in line with police regulations and Douglas is subject to the same process."
In March this year Mr Passmore denied having a "bust-up" with the force's chief constable.
He said claims that Mr Paxton's continued absence was linked to poor relations between the pair were "a load of old tosh".
He said at the time: "There has definitely not been a bust-up. [I] 120% deny that." But he would not elaborate on Mr Paxton's illness.
Mr Paxton started the job in March 2013, having been the only person to apply for the role.
Conservative PCC Mr Passmore said Mr Paxton would be off "for the foreseeable future". Speaking to BBC Look East, Mr Passmore said he was "really surprised" when he heard that Mr Paxton was off work.