'Bad loser' smashes fruit machines in Ipswich arcade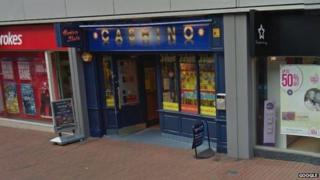 A "disagreeable loser" smashed up £250,000 worth of fruit machines in an arcade in a bid to solve his gambling addiction, a court heard.
Andrew Haines, 32, from Kingfisher Avenue, Ipswich, admitted causing criminal damage and burglary after targeting Cashino in the town on 2 May.
Ipswich Crown Court heard he had lost £30 on the arcade's machines earlier in the day, saying staff "mugged him off".
Haines was jailed for two years and eight months.
'Overwrought with emotion'
Judge Martyn Levett told him: "It was clear that you were a disagreeable loser who was out to take his revenge."
Marcus Croskill, defending, told the court his client had a gambling problem and had been "overwrought with emotion".
Haines believed by destroying the machines he would end his addiction to gambling, Mr Croskill said.
Prosecutor Gareth Hughes said the damage caused by Haines had been estimated at up to £250,000.
He destroyed all of the arcade's 48 fruit machines as well as smashing a cash machine, catering equipment and three large windows in a 20-minute spree.