Oakwood School head teacher Eric de Smith jailed for sex abuse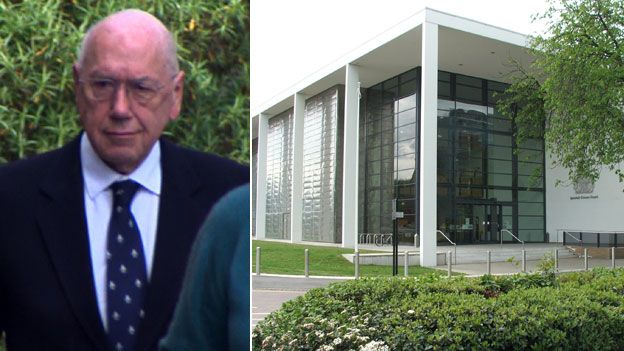 The former head teacher of a state boarding school has been jailed for seven years for sexually abusing boys.
Eric de Smith, 76, from Stowmarket, assaulted pupils at Oakwood School in the town. The school closed in 2000.
His crimes were committed against several boys in the 1970s and 1980s.
Judge Rupert Overbury described the victims as vulnerable children and told de Smith his offences were "plainly for your own personal perverse gratification".
The Suffolk County Council-run school opened in 1974 for boys with emotional and behavioural problems.
De Smith, of Danes Close, was found guilty of seven charges of sexual assault or indecency during a trial earlier in the year at Ipswich Crown Court.
Sentencing him at the same court, the judge said: "This was a gross breach of trust as headmaster of vulnerable pupils."
Victim statements described the emotional scars and "gut-wrenching betrayal".
One victim said: "It was 10 minutes in that office, but for me a life sentence."
Two other ex-Oakwood teachers were sentenced prior to de Smith.
Gerald West, 71, and Michael Watts, 59, had been standing trial this week at Ipswich Crown Court, but they each changed some of their pleas to guilty and each admitted two offences of physically abusing pupils.
West, of Martins Meadow, Gislingham in Suffolk, had denied 10 child cruelty charges and the jury was directed to find him not guilty of eight.
Watts, of Sellwood Road, Netley Abbey, Southampton had denied seven charges and jurors were directed to clear him of the remaining five.
Robert Pawson, defending Watts, said: "He accepted he was too regimented and, with the benefit of hindsight, his behaviour on occasions had been inappropriate."
James Keeley, defending West, said: "There were certain situations when he was placed in the most difficult and impossible circumstances with very limited help.
"His genuine intention was always to help pupils and in many cases he did."
They were each given a 12-month conditional discharge and ordered to pay £1,000 in costs after the judge heard they had already spent a considerable amount on legal fees.
Judge Overbury said staff at Oakwood "did an incredibly difficult job dealing with very disruptive, disobedient and aggressive children" but the the assaults and ill treatment by Watts and West amounted to a breach of trust caused by a loss of control.
Afterwards, some former pupils said they were "very happy" with the head teacher's sentence, but unhappy that Watts and West had walked free.
More than 100 former pupils have mounted a civil case for compensation.
Related Internet Links
The BBC is not responsible for the content of external sites.