Haulage firm Deben Transport put into administration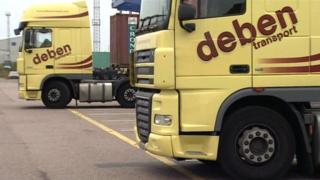 A haulage firm with offices at ports and cities across England has gone into administration with the loss of more than 200 jobs.
Deben Transport had offices in Hull, Southampton, Tilbury, Alconbury, Birmingham, Manchester, Leeds, South Shields and Doncaster.
Administrators Ensors said staff were told on Monday and most were sent home.
It said the firm had recorded losses in the last two years of trading after once seeing a turnover of £30m.
The Felixstowe-based company employed 224 people.
A statement from Ensors said: "Management had attempted to put in place a recovery plan and had recently taken cost cutting measures in an effort to turn the business around.
"But it became apparent that its immediate short-term funding requirement could not be met and the director took the decision to place the company into administration.
"Regrettably the majority of the workforce had to be made redundant once administration was inevitable."
'Decline in business'
The company had a fleet of 150, 44-tonne vehicles and more than 200 trailers, according to its website.
A former employee told BBC Radio Suffolk there had been a decline in business in recent months.
BBC Look East's business correspondent Richard Bond said it was one of the east of England's leading firms which grew rapidly after Paul Dawson set it up in 1987.
"Its demise is further evidence of the cutthroat competition in the haulage industry," he said.
No-one from Deben Transport was available for comment.
Trade magazine The Loadstar said the firm had blamed a "sustained period of losses" after failing to turn around a 2013 pre-tax trading loss of £658,000.