Husband of dying patient Denise Davies 'told to butt out'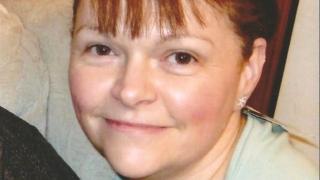 A husband whose wife died after becoming dehydrated at a Suffolk mental health unit was told to "butt out" of her care plan, an inquest has heard.
Denise Davies, 45, of Lowestoft, was admitted to the Carlton Court mental health unit in the town on June 2013.
After becoming dehydrated, the mother of two was transferred to the James Paget Hospital where she died.
Her husband Mark told the inquest in Norwich he was concerned she was not eating or drinking.
The inquest heard Mrs Davies, who had been her husband's registered carer for three years, had a 10 year history of depression.
She had worked as a support worker with the local mental health service.
Mrs Davies was admitted to Carlton Court, which is run by the Norfolk and Suffolk Foundation Trust, after threatening to injure herself and being under the delusion that she was trying to poison her husband with mouthwash.
Mr Davies said he saw staff remove her dinner and was concerned about her care.
When asked to leave her, Mr Davies said her last words to him were: "Please don't go."
He said he later had a call saying his wife was being transferred to the James Paget Hospital at Gorleston because she was "profoundly dehydrated".
Mr Davies said he was told to "butt out" of her care plan.
When he went to see her the next day he found she had died of a cardiac arrest, caused by a blood clot in the lung.
The inquest continues on Friday.