Norfolk and Suffolk police helicopter's mid-air near-miss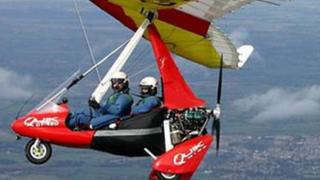 A police helicopter and a microlight narrowly avoided a mid-air collision over Suffolk, a report has revealed.
The police pilot told investigators there was a "high" risk of collision with the microlight near Beccles on the afternoon of 7 September.
He said he took avoiding action after seeing the aircraft when it was 100m (328ft) away.
Investigators found "safety margins had been much reduced below normal".
The incident was examined by the Civil Aviation Authority's UK Airprox Board, which looks into near misses in airspace.
'Late sighting'
The microlight pilot was "enjoying an afternoon flight in his local area" when he changed path after seeing a road accident below.
He told the board he was travelling at about 1,300ft (396m) when he saw the helicopter about 200ft (61m) below him at 14:11 BST.
He "applied full power and climbed to the left" just before the helicopter pilot also took avoiding action "by turning left and descending", the report found.
On his return to his base at Wattisham Airfield in Suffolk, the helicopter pilot reported the near-miss and assessed his risk of collision as "high".
The board said it was "unfortunate" the two pilots were not monitoring the same radio frequency at the same time.
It decided the cause of the near-miss was "a late sighting by both pilots".
A National Police Air Service spokesman said the police helicopter had been deployed to photograph the aftermath of a road traffic crash at the time.