US hacking accused Lauri Love 'had stolen government data'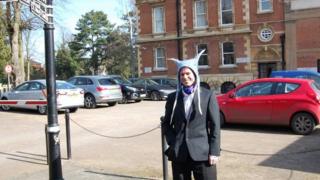 A British man accused of hacking into US government software networks had a computer that appeared to have "stolen" information on it, a court heard.
Lauri Love, 30, of Suffolk, who faces no charges in the UK, is seeking the return of machines seized by police.
But, at Bury St Edmunds Magistrates' Court, the National Crime Agency (NCA) called for him to be ordered to help decrypt files held on his computers.
Mr Love said the NCA had not found enough evidence to force him to do so.
Andrew Bird, counsel for the NCA, told the court a US investigation into the hacking of computers, including those of the FBI, traced the activity back to Mr Love's home in Stradishall.
As a result, Mr Love was arrested in the UK in October 2013 and five computers and eight storage devices were seized.
Mr Bird said most of the computers seized were encrypted.
But investigators found one computer, which was on at the time it was taken, "appeared to have information stolen from the US Department of Energy", he said.
He said Mr Love had refused to help the NCA decrypt the files and he called for magistrates to order him to do so.
But, Mr Love told the court it was up to the NCA to prove any "information exists" on his computer that they should have a right to see.
'Damaging our democracy'
"At this time, no criminal charges have been pressed. I am still an innocent man," he said.
"The NCA has not found sufficient evidence to lay a charge against me in 16 months."
The magistrates, chaired by Carol Heywood, said Mr Love's case should go before a district judge at Ipswich Magistrates' Court on 6 July.
They directed that Mr Love should give a key to allow the NCA to look at the contents of one of the computers seized - a Samsung laptop.
Mr Bird added that Mr Love could still face extradition to the US. But the BBC understands no request has been made so far.
After the hearing, Mr Love said he was concerned about the "abuse of power damaging the foundations of our democracy".