BT to create 1,000 new apprenticeships and graduate jobs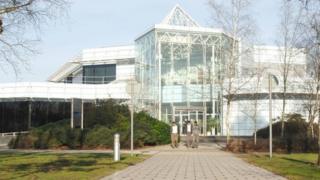 Telecoms giant BT has announced it is to create 1,000 new apprenticeships and graduate jobs this year.
Most recruits will be trained at the firm's base at Martlesham in Suffolk, offering careers ranging from business analysis to software development
Others will be based at sites in London, Glasgow, Belfast, Cardiff, Newcastle, Manchester and Leeds.
Up to 1,000 vocational training and work experience placements will also be offered to unemployed youngsters.
Some recruits will be able to take a new type of apprenticeships that lead to honours degrees while they work, BT said.
'Fast-track route'
Gavin Patterson, chief executive of BT, said: "The UK's future as a technology leader hinges on young people getting the skills, support and training they need to create successful careers in science, engineering and IT.
"These new recruits will have the opportunity to work in fields such as technology research, engineering, IT and TV, helping to create and build the next generation of communications technologies for the UK."
Business Secretary Vince Cable said: "Apprenticeships are a fast-track route in to the workplace, and can take you almost anywhere, even offering the chance to gain a degree on the job."
Ian Wybron, researcher at Demos, said: "All the major political parties agree we need to do more to promote high-quality apprenticeships.
"So it's disheartening to see that so few parents and students are given the information they need to make an informed choice about them."
Andy Kerr, from the Communication Workers' Union, said it had been talking to the firm about job creation.
"We are confident these will be quality jobs providing real careers for young people," he said.