Oscars: Mat Kirkby promised free Pump Street Bakery doughnuts for life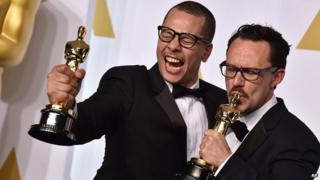 An Oscar-winning director has been promised free doughnuts for life after mentioning a Suffolk bakery in his acceptance speech.
Mat Kirkby won the award for best live action short for The Phone Call, which stars Sally Hawkins and Jim Broadbent.
The director, who is from Shottisham in Suffolk, namechecked Orford's Pump Street Bakery during the ceremony in Los Angeles.
The bakery said he would get free doughnuts "for good".
Kirkby's 20-minute film is about a volunteer who works in a helpline call centre in London.
He accepted the statue alongside his co-writer, James Lucas.
"I'm particularly happy because this now means I can get a free doughnut at my local bakery, the Pump Street Bakery," he said.
"They do fantastic doughnuts, but we should stick to the script."
Kirkby told the audience short films were made "not with money, but with tenacity and lots of favours".
"Thank you to Sally Hawkins who donated her incredible talent to us for nothing - this is for you," he said.
The Pump Street Bakery was established in 2010.
Owner Joanna Brennan said: "Mat's a charming guy and he's a regular customer and sometimes comes in to write.
"I was obviously aware of Mat's nomination and was looking forward to waking up this morning and watching the Oscars, but not expecting to wake up to a mention, so it was very exciting.
"I think an Oscar win deserves more than one free coffee or doughnut, so we're definitely going to be giving him free doughnuts for good now, as a thank you for the mention."