Suffolk special support centres: Apology over 'closures' letter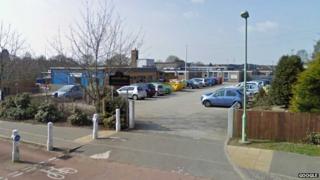 An apology has been made after a document about the closure of centres for children with learning difficulties was mistakenly sent to parents.
Suffolk County Council has been reviewing the future of seven special support centres (SSCs) attached to mainstream primary schools.
Parents opposed to the closures said the document did not explain what alternative provision could be made.
The council said closure was one of several options.
The Conservative-run authority is reviewing special educational needs services, which have a total of 108 places and cost £1.4m a year.
The document said they were under-occupied, which was costing £250,000, and it needed to look at other ways of providing the service.
The Save Suffolk's Specialist Support Centres group said the council had not explained what alternative provision would be made.
Joanna Hammond, from the group, said the centre used by her son at Gorseland Primary, Martlesham Heath, was not under-occupied.
"Children get the support in the [SCC] classroom, but they have access to the mainstream school for assemblies and lunchtimes, so it's the best of both worlds," she said.
"There is no provision like SCCs anywhere else and the thought of children going back into mainstream schools is devastating.
"We have no idea what the intention is."
---
Suffolk's special support centre locations
Felixstowe - Maidstone Infants School
Felixstowe - Causton Hall Junior
Ipswich - Sidegate Primary School
Ipswich - Castle Hill Infants School
Ipswich - Castle Hill Junior School
Martlesham Heath - Gorseland Primary School
Sudbury - St Gregory Primary School
The SSC at Abbots Green Primary School, Bury St Edmunds closed in 2014
---
A letter has now been sent to parents explaining the consultation document was only meant for "interested parties", which did not include parents, some of whom had had it forwarded to them by head teachers.
Paul Senior, consultant with the council's Children and Young People's Services, wrote: "Please accept my apologies for the arising ambiguities.
"The intention is for the original document to be further developed with additional contextual information... and the parent/stakeholder version will provide further detail with regards to the options presented."
The council said the consultation had been put on hold.