Highlands avalanche victim was Ipswich's Max Norman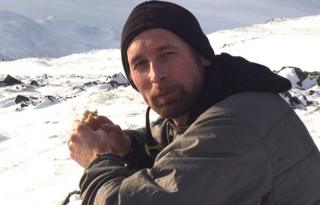 A climber who died after being caught in an avalanche in Scotland has been named by police.
Max Norman, aged 41 and from Ipswich, was mountaineering on Coireag Dubh Mor in the Western Highlands with another climber.
They were reported missing on Friday and while his colleague was found alive on Saturday, Mr Norman did not survive.
The landscape architect leaves a wife and three children and his family said they were "utterly devastated".
In a statement, his family said: "Max was an amazing person and a hugely experienced mountaineer.
"He loved the Scottish highlands and knew the area very well. We ask for space and time to comfort his young family and to mourn his loss.
"We are enormously grateful to the rescue services for all their efforts and for the kind support of the staff at the Torridon Youth Hostel."
Found walking
Torridon Mountain Rescue Team and Stornoway Coastguard Helicopter were alerted after the men failed to return from the area on Friday.
Mr Norman's climbing companion was also from Suffolk, but has not been named by police.
He was found walking by rescuers while trying to summon assistance.
Mr Norman's body was later found.
Police Scotland said they were both experienced winter climbers and were well-equipped.
A report has been sent to the local procurator fiscal.