Ipswich Town critical of weekend train cancellations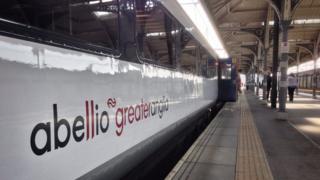 Ipswich Town has said there has been "awful" communication by Network Rail over plans to close most of the line to London at weekends.
Buses will replace trains between Manningtree and Shenfield from 31 January until 22 March, because of engineering work.
Ipswich Town's managing director said fans needed more notice to plan alternatives.
Network Rail said it had announced the weekend rail closures last year.
Ipswich railway station will remain open during the eight-weekend period, with trains still running to to Manningtree, Norwich, Cambridge, Felixstowe and Lowestoft, and replacement buses available between Ipswich, Essex and London.
'Ensure fans unhindered'
Ipswich Town had concerns about fans trying to get to home games against Wigan, Reading and Brentford and travelling to London for the Fulham match.
Ian Milne, managing director of Ipswich Town, said he had only just found out about the weekend closures.
He said: "With our crowds moving from the 16,000s to the 25,000s, it's important to ensure fans aren't hindered by transport problems.
"The communication has really been quite awful by Network Rail.
"Network Rail and Abellio Greater Anglia need a better system of communicating with customers and media organisations and give at least a month's notice."
Network Rail said an announcement about weekend rail closures had been made last year and the planning of engineering works began before any football fixtures were announced.
A Network Rail spokeswoman said: "This investment is absolutely vital to help us deliver a better service for passengers."
An Abellio spokeswoman said: "We will be doing everything we can... to provide sufficient resources for the numbers travelling.
"This will include additional buses on standby as required."
She said details were available on the firm's website.