BT Adastral Park homes protesters lose court fight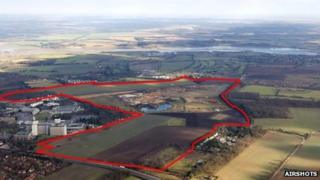 Campaigners opposed to 2,000 new homes on land owned by BT have lost their latest legal battle.
The Court of Appeal has backed planners' approval of the scheme on land next to Adastral Park, Martlesham Heath, Suffolk.
The No Adastral New Town (Nant) group wanted to overturn a High Court decision last year backing Suffolk Coastal District Council's plan.
Nant has been ordered by the court to pay £10,000 in legal costs.
The group argued the site was too close to the River Deben estuary, which is an area of outstanding natural beauty, and there were flaws in the council's process in choosing the site.
Geoff Holdcroft, cabinet member for planning at the Conservative-run council, said: "It is frustrating that a small number of people could undermine this essential development process.
"We were always confident the rigorous process we followed in drawing up the local plan would be found to be sound.
"We worked assiduously to carefully balance the needs of the community for affordable housing and new jobs in the area, while maintaining the environment and quality of life we all value."
'Important wetlands'
Appeal court judges also refused to grant Nant permission to take its case to the Supreme Court, but Nant can still apply directly to the Supreme Court in an attempt to get their case heard.
Janet Elliott, chairwoman of Nant, said they were "obviously disappointed".
"We feel very strongly the estuary is one of the most important wetlands in the country and, with this site less that a mile away, we have to do all we can to make sure it's protected," she said.
"I don't think the Supreme Court is a completely closed door."
The council's local plan means the land can be built on, but developers will still need to detailed planning permission for housing projects.