Ecstasy deaths: Police call to surrender drugs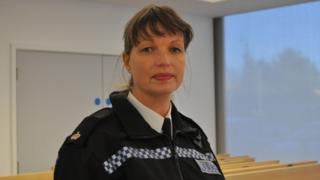 Police in Suffolk are calling for a suspected dangerous batch of ecstasy to be handed in amid fears it was linked to the deaths of four men.
They said the priority was not to arrest anyone surrendering the pills, which carry a Superman motif.
Two of the dead men are from the Lithuanian community, as is a third man who is recovering in Ipswich Hospital.,
Meanwhile, police said a 27-year-old man was found dead at a property in Telford, Shropshire, on Thursday.
Supt Louisa Pepper said the drug is "highly dangerous" and the "number one priority" is making sure no-one else comes to harm.
"The particular focus is to save lives," she said.
"These drugs are potentially so dangerous we just want them off the streets.
"Tragically three young men have lost their lives.
"We view this particular drug as especially dangerous and want to prevent further deaths and save lives.
"If you have got any further drugs, please surrender them because they are dangerous.
"I can fully understand people's reluctance in this situation, but we are not looking to arrest or prosecute people - they are really dangerous and we are talking about saving lives."
The two Lithuanian men died in Ipswich. A 22-year-old died at an address in Bramford Lane on Christmas Eve, while a 24-year-old man was found dead in Provan Court on Thursday.
A second man found in a serious condition at Provan Court is currently recovering at Ipswich Hospital.
Provan Court resident Tanya Hilling said she was "very shocked".
She said: "My thoughts are just for the families."
A third man died after being found seriously unwell in Chestnut Close in Rendlesham, Suffolk on Thursday, He has been named locally as 20-year-old labourer, John Hocking.
Mr Hocking is believed to be a former student at Thomas Mills High School in Framlingham.
Suffolk Police have drawn a link between these drugs and dangerous pills with a similar appearance which were in circulation in the Netherlands last month.
Those tablets had a large concentration of PMMA, which acts more slowly than MDMA, the main component of ecstasy. This causes people to take more pills because they think they are not working.
Ch Insp Steve Denham said: "As well as it being illegal to sell and buy drugs, it can also be very dangerous, as we have sadly seen with these tragic deaths."
Ipswich Hospital chief executive Nick Hulme said: "It is very sad when we have to deal with the impact of drug use on young people."
The deaths have been referred to the Suffolk coroner and inquests will open in due course.