Hollesley Bay absconder Paul Frankou jailed over crimes on run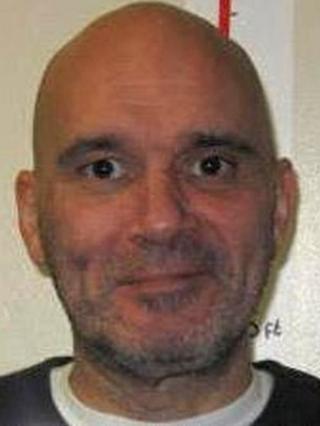 A life sentence inmate who fled an open prison in Suffolk has been jailed for seven more years for attacking a chef while on the run in Hertfordshire.
Paul Frankou, 49, left Tunisian Salah Touati with permanent scars to his hands after breaking in to the Sow and Pigs pub in Thundridge, near Ware.
He got away with just a bottle of drink, St Albans Crown Court heard.
Recorder Peter Herbert said he was stupid to have fled jail as he could have been out on licence soon.
Frankou was serving a life sentence passed in 2001 for attempted robbery and firearms offences when he walked out of Hollesley Bay jail near Woodbridge in May.
Prosecutor Helen Guest said just after midnight on 24 August he broke into the pub where Mr Touati was alone.
He demanded money and, in a struggle, the chef suffered cuts to his hands.
Recorder Herbert said: "It was an awful lot of damage and terror for the victim all for a bottle of Southern Comfort."
He was arrested in a stolen Ford Focus in Broxbourne on 28 August.
He had been in Hollesley Bay for five months preparing for release on licence.
Defence barrister Monica Stevenson said Frankou had lost privileges when the prison discovered he had been drinking alcohol while on day release and that triggered him absconding.
Recorder Herbert said: "But for your own stupidity you would be looking at parole in the immediate future.