Inquiry begins into WW2 bombs at Great Blakenham recycling site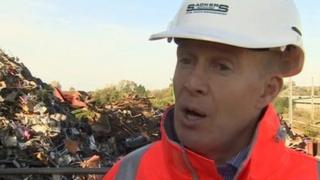 Twenty World War Two bombs were discovered at a recycling centre in Suffolk - hours after an Army disposal team removed three others.
Ordnance experts were called to Sackers, Great Blakenham on Wednesday after three bombs were found at 12:00 GMT, but were called back at 15:00 GMT.
They carried out a controlled explosion in field near Sackers' Needham Market centre on Thursday morning.
The Environment Agency is now investigating who dumped the devices.
David Dodds, Sackers managing director, said he was "still stunned" by the find.
"How on earth can anybody deliver this in some scrap metal and not see that these were bombs," he said.
"Everybody has a duty of care to do the right thing and delivering scrap should be no different."
The bombs were inert World War Two practice bombs, the Army confirmed.
An Army spokesman said: "Old ammunition can be quite unstable and as it could not be established if this item contained any explosives, the safest thing to do was destroy it."
An Environment Agency spokeswoman said investigators would be "following the paper trail" to find out who took the bombs to the centre.