Long Melford death: Tribute to 'kind soul' Deborah Ruse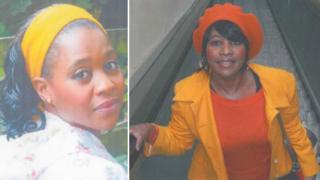 A woman believed to have been murdered by her husband "had a way of making everybody she came into contact with feel loved", her family has said.
Deborah Ruse, 39, was found at her home in Long Melford, Suffolk, in November, hours after her husband was found dead.
Her family said she recently moved out of the family home after separating from Oliver Ruse, who was 37.
"She was a passionate Christian, generous and a kind soul," her family said in a statement.
Mr Ruse was found at multi-storey car park in Bury St Edmunds on 13 November. An inquest heard how an axe stained with Mrs Ruse's blood and with Mr Ruse's DNA on the handle was found in a Land Rover in the car park.
Police are treating their deaths as a suspected murder and suicide.
Mrs Ruse was brought up in Zambia, where she was "fondly known as Sheke", before pursuing a law degree at Buckingham University, her family said.
'Only way out'
She met Mr Ruse while they were both working in a London branch of Gap and they married in Zambia in 1998.
The couple had four daughters, aged between eight and 16, but had separated shortly before their deaths and were involved in an acrimonious dispute about where their children should live.
Earlier in the week, an inquest in Ipswich heard how Mr Ruse, who ran a butcher's in Long Melford, had told his sister "the only way out was to kill Deborah".
Mrs Ruse's family said: "May her soul rest in eternal peace."
The inquest has been adjourned until February.