Norfolk and Suffolk business welcomes completion of dual carriageway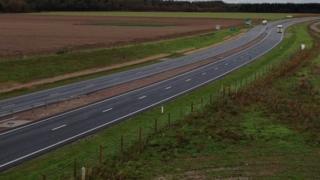 A missing dual carriageway link on the main road between London and Norwich has been officially opened.
A £134m nine-mile section of the A11 between Barton Mills in Suffolk and Thetford in Norfolk was opened by Transport Secretary Patrick McLoughlin.
Business organisations have welcomed the completion of the road as it promises to boost trade and tourism.
The project was laid down 40 years ago but was shelved several times when finance became tight.
Work began on the section in January 2013 and it carried traffic on a single carriageway in each direction during construction.
Caroline Williams, chief executive at Norfolk Chamber of Commerce, said: "The Norfolk business community is known for its tenacious nature and today we see the result of many years of lobbying.
"The A11 dual carriageway is not just a road but a symbol that Norfolk is very much open for business."
Economic growth promised
The improved road promises to bring £600m in economic benefits, she said.
"All sectors across Norfolk will benefit enabling new jobs, housing and business investment.
"This is a great day for Norfolk but is very much the beginning of a new chapter rather than the end."
For Suffolk the road improvement was crucial to developing a modern network to meet the demands of business.
John Dugmore, chief executive of the Suffolk Chamber of Commerce, said: "Whether it is moving goods in or out of the region as part of our thriving logistical sector or the millions of tourists we welcome every year we have to have a network of roads and rail that support not hinder economic growth.
"Today's opening should be just the beginning of investment that the East is calling for."