Felixstowe yacht collision: Seaman pleads guilty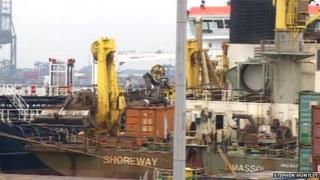 A man has admitted being at fault over a boat collision in which a woman died off the coast of Felixstowe in Suffolk.
Gerardus Chapel, from Papendrecht, The Netherlands, pleaded guilty to failing to discharge his duties properly as the officer of the watch of the dredger.
The body of Bernadine Ingram, 57, from Butley, near Woodbridge, was found the day after the collision on Sunday 8 June, Ipswich magistrates heard.
Chapel will be sentenced at Ipswich Crown Court on a date to be fixed.
He was released on unconditional bail.
The victim was on the yacht, called the Orca, with a man and two dogs before it sank.
The man and one dog were rescued by the crew of the Shoreway dredger.