Ipswich Hospital casualty has 'busiest day ever'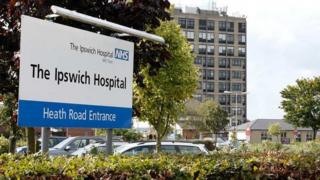 Senior managers at Ipswich Hospital are due to look at contingency plans after having one of the "busiest ever days" in casualty on Monday.
The A&E department, which usually admits 250 patients across the day, had a concentration of patients during the daytime.
Nick Hulme, chief executive, said: "At one point I was seriously considering, 'can we cope with any more patients?'"
The hospital said all patients admitted were seen.
Mr Hulme said: "We've never been as busy in the hospital's emergency department as we were from 8am until 8pm on Monday."
It follows a situation at Colchester Hospital last month which saw managers declare a "major incident" for 13 days when operations were cancelled.
'Under pressure'
Ipswich Hospital said it had had higher numbers of patients on previous peak days, but the level and length of care needed on Monday was higher, making it the "busiest" day.
Mr Hulme said patients were dealt with, but corridors and resuscitation spaces were full during the peak period.
"We had a very slow day on Sunday, so maybe people who weren't feeling great delayed and waited until Monday, but I think the cold weather did affect it," he said.
"I think it was just one of those things, but even with the best plan, something can happen, the system will be under pressure and we will find ourselves with difficulty."
Initial studies suggested it was partly due to an increase in patients with respiratory and cardiac conditions, the hospital said.
Senior managers would hold a meeting to fully analyse the admissions and their contingency plans, Mr Hulme said.