Masterpiece restored in public in Ipswich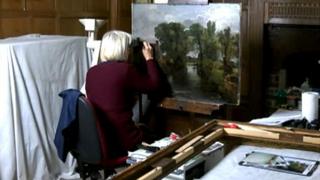 A 200-year-old masterpiece by John Constable has been restored in front of the public at a museum in Ipswich.
Conservator Rosalind Whitehouse has been working on Constable's Mill Stream, part of the Suffolk artist's collection at Christchurch Mansion.
Visitors have been able to watch Ms Whitehouse restore the artwork at special sessions over four weeks.
Ms Whitehouse said: "I have been waiting a year to do this. It is the pinnacle for me."
The picture, painted in 1814 of Willy Lott's cottage - the same cottage featured in Constable's most famous work the Hay Wain - had been smothered in varnish.
The painting had to undergo technical analysis to decipher how many layers of varnish had been used.
"Old varnishes always go yellow with time and that's what has happened here," said Ms Whitehouse.
"It hasn't been cleaned for a very long time.
"There's not very much over-paint, so I'm thinking we are going to find a pretty pristine Constable in here.
"It's like taking off a yellow curtain and you'll be able to see the real colours again."
The image of a kingfisher has been revealed during the restoration.
Ms Whitehouse said: "The more you look at the pictures, the more you adore the bloke. He has given us a great legacy.
"This belongs to us - it's our heritage, our countryside."