RSPB Boyton and Hollesley Marshes lapwings have record breeding season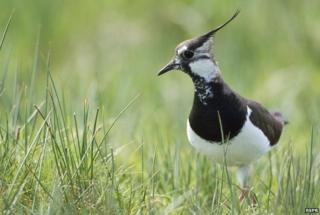 Record-breaking numbers of breeding lapwings have been recorded along the Suffolk coast, as conservation measures in Norfolk aim to help the future of the threatened species.
Thirty-two pairs bred at Boyton and Hollesley Marshes with 39 pairs recorded at Minsmere, the RSPB said.
Experts are also working to encourage the species on the Norfolk Broads.
Lapwing numbers have plummeted by 80% since the 1960s due to changes in agricultural land use.
Known as peewits after their distinctive call, the black and white waders are on the UK's Red List of threatened species with just 140,000 breeding pairs.
This year's figures have left conservationists hopeful that work to reverse the decline is having an impact.
Working with farmers and landowners, new habitats are being developed in the Broads, where an abundance of wet lowland grassland can provide an ideal breeding ground the birds.
Jennifer Smart, from the RSPB, said: "Increasing the numbers of lapwings breeding in nature reserves alone isn't going to be enough to help the species recover in the long term.
"If we can create and improve breeding habitats outside nature reserves and the birds inside the reserves produce enough chicks, then the young birds can go out and establish new populations in the wider countryside from which they have been lost."
Landowner Oliver Berney said changes in land management have "lead to increased numbers of lapwings and other species without having a negative impact on our bottom line.
"It's extremely gratifying to know we've been able to make a difference."