Bumper year for Suffolk's 'TV trenches' in WW1 centenary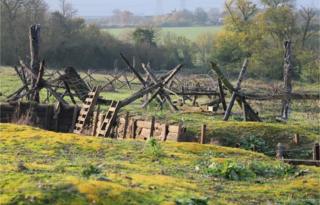 World War One may have been fought 100 years ago but in the peaceful and tranquil county of Suffolk, the battles are still being played out.
Over the past few years, producers from TV series such as Downton Abbey and those behind the Sainsbury's Christmas TV advert have been flocking to a field near Ipswich - which includes a network of tunnels, trenches and barbed wire - to film their war scenes.
But why choose Suffolk over Hollywood?
One of the site's creators, historical advisor Taff Gillingham, said one of the aims was to "improve the quality of documentaries and dramas".
"There was a continual demand for somewhere to film. We'd built trenches all over the county for different film and TV jobs and I thought 'this is mad!'," he said.
"Why don't we build one that can stay here near us and people can come to us? It'll weather, it'll adapt, it'll get bigger.
"We found this great place on the outskirts of Ipswich and a farmer who was on the brink of retirement who thought it was a great idea - and we've been here ever since."
Mr Gillingham said he had been "very busy" this year, as the World War One centenary was marked.
The BBC's trailer for its World War One season was shot at Mr Gillingham's site, along with documentaries presented by Jeremy Paxman and Dan Snow.
"Most of the biggest and interesting projects come out of nowhere, with no warning," he said.
"Lots of stuff like the Sainsbury's ad was absolutely top secret, you can't even breathe about it."
The supermarket's Christmas ad was filmed over a week earlier this year and directed by Ringan Ledwidge.
It depicts British and German soldiers coming together for the "Christmas truce" of 1914, something Mr Gillingham said he had been researching for a number of years.
"I saw there was an opportunity to make it as accurate as possible.
"Sainsbury's and the production company, as far as they were concerned, they were making a stylised, impressionistic version of the truce, using accounts of things that had happened - men cutting each others' hair, swapping buttons, swapping hats - all the things which we know happened on a grand scale."
The advert has been viewed more than 13 million times on YouTube.
But the commercial left some people feeling less than positive, with one critic saying he was "so unsettled, so uncomfortable, even a touch nauseous".
"It's very interesting with the controversy," said Mr Gillingham.
"The vast majority of people who I've heard object about it are objecting on behalf of men they'd never met, who fought in a war they know nothing about, and have missed the point completely, as far as I can see.
"This isn't about the ethics of using the First World War for advertising, because there's an endless list of companies that have done that in the past."
Mr Gillingham said his role as historical advisor on the Sainsbury's ad and other productions was to "add in the bits of detail" and "provide solutions" around potential inaccuracies.
"I know it's a piece of entertainment first and foremost. Irrespective of how respectful it is, it has to capture people's imagination," he said.
"We certainly would never, ever take on a job we thought was disrespectful to the Old Boys.
"The three of us directors all had grandfathers who fought in the First World War, we know we have a responsibility to them."